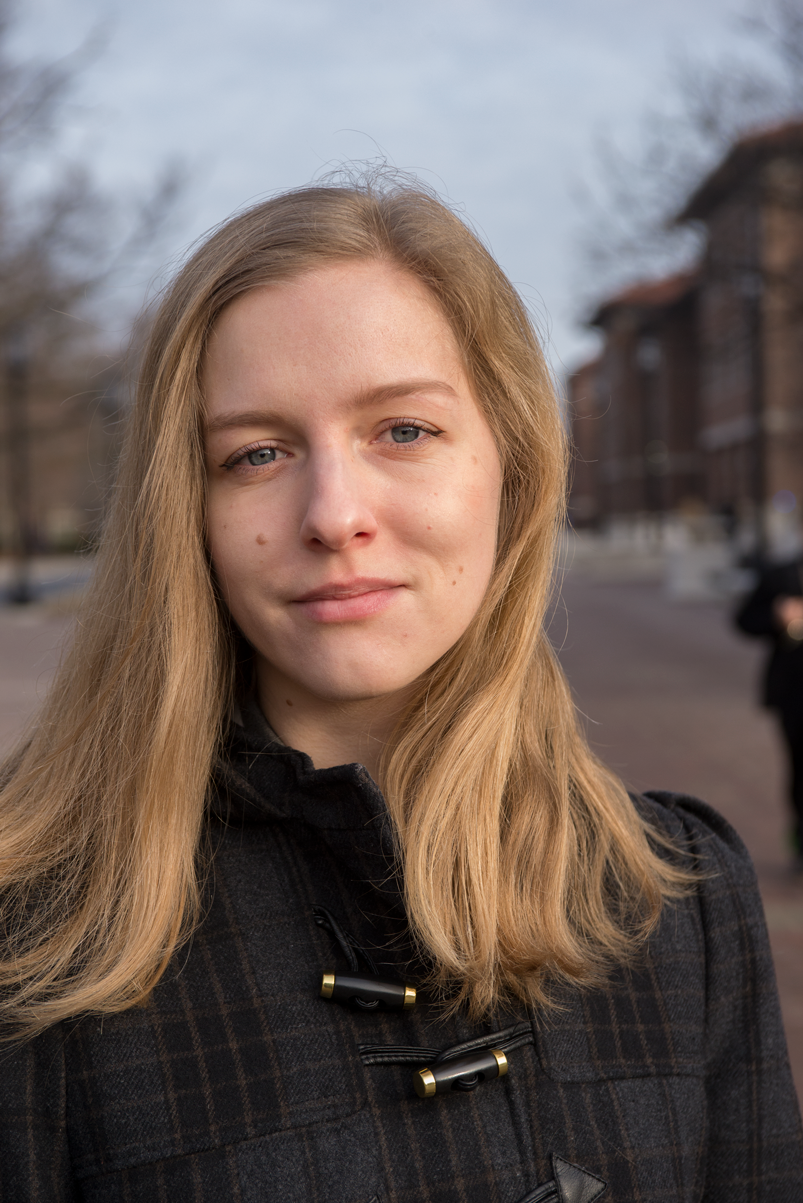 | Class of 2013 |
27. február 2020 | Ivona Mičeková
1.Čomu všetkému sa momentálne vo svojom živote venuješ? 
Momentálne som v 5. ročníku doktorandského štúdia politickej filozofie na Purdue Universite v americkej Indiane. Popri písaní dizertačnej práce o Hannah Arendt a jej koncepte ľudských práv pracujem pre Purdue College of Liberal Arts na implementácii grantu, ktorého cieľom je vytvoriť osnovy pre bakalárske štúdium v oblasti etiky umelej inteligencie a Big Data. Okrem toho vediem študentskú skupinu Women in Philosophy, s ktorou každý rok organizujeme študentskú konferenciu Inclusive Philosophies zameranú na oblasti filozofie, ktoré nie sú dostatočne reprezentované v súčasnom filozofickom kanóne.
2.Čo z toho ťa najviac napĺňa?
Práve teraz ma baví najmä moja nová práca na projekte "Ethics of AI and Big Data," pretože etika nových technológií je veľmi aktuálna téma, nakoľko použivanie úzkej (narrow) umelej inteligencie v súkromnom aj verejnom sektore má významné – a nie vždy pozitívne – dôsledky na spoločnosť. Tejto téme sa venuje mnoho skvelých odborníkov a odborníčiek, ktorých máme vďaka tomuto projektu možnosť pozvať na Purdue ako hostí na jednu zo štyroch plánovaných konferencií. Jednou z mojich úloh je príprava podkladov, ktoré budú slúžiť na otvorenie diskusií na týchto konferenciách.
3.Ako si sa dozvedela o BISLA a prečo si sa rozhodla študovať práve na tejto škole?
O BISLA som sa dozvedela úplnou náhodou, keď som si čítala zoznam vysokých škôl na Slovensku na nejakej internetovej stránke. Pre BISLU som sa rozhodla, keďže som v čase maturity ako 17 ročná ešte nevedela – celkom pochopiteľne – čomu presne sa chcem v budúcnosti venovať. Mala som však všeobecný zaújem o humanitné vedy, a BISLA sa ponúkala ako miesto, kde môžem tento záujem slobodne rozvíjať. Napokon mi práve štúdium na BISLE pomohlo k poznaniu, že ma z nich najviac baví filozofia, konkrétne sociálna a politická, a vďaka pomoci od skvelých profesoriek a profesorov na BISLA sa mi podarilo v jej štúdiu pokračovať aj po BISLE.
4.Po skončení BISLY viedli tvoje kroky na Purdue University College of Liberal Arts. Do akej miery sa podľa teba dá porovnať štúdium na BISLA a Purdue? V čom sú tieto školy podobné a v čom práve naopak úplne odlišné?
Asi najočividnejší kontrast je vo veľkosti týchto inštitúcii – Purdue je najväčšia verejná univerzita v Indiane s vyše 40 tisíc študentmi, primárne zameraná na technické vedy. Katedra filozofie je však súčasťou tunajšej menšej College of Liberal Arts, kde veci do istej miery fungujú podobne, ako na BISLA, keďže bakalárski študenti majú možnosť venovať sa rozmanitej kombinácii sociálnych a humanitných vied – od antropológie, cez literatúru, po ekonómiu.
5.Porozprávaj nám prosím viac o tvojom vzťahu k filozofii.
Môj vzťah k filozofii je dnes formovaný hlavne mojou ambícou robiť sociálne angažovanú filozofiu. Verím, že úlohou sociálnej a politickej filozofie v súčasnosti je usilovať sa dávať nám nové nástroje a rámce vďaka ktorým môžeme mať produktívnejšiu diskusiu o riešení globálnych výziev, akými sú napríklad klimatická kríza, sociálne nerovnosti, či rodová rovnosť.
Zároveň dnes filozofia ako akademický odbor prechádza transformáciou, ktorej cieľom je otvoriť ju skupinám ľudí, ktorí v minulosti nemali prístup k tvoreniu poznania, napr. ženy, people of color, alebo členovia LGBTQ+ komunity. Za svoju úlohu vo filozofii ako v akademickej disciplíne považujem snažiť sa svojou trochou prispieť k tejto zmene, pretože filozofia potrebuje diverzitu perspektív na to, aby prekvitala a ostala relevantná.
6.Aký je tvoj najväčší sen?
Momentálne je mojim najväčším snom dopísať dizertačku, o čom sníva asi každý doktorand, haha. Okrem toho veľa rozmýšlam o tom, čo bude po štúdiu, keďže sa blížím k jeho záveru – v tomto ohľade je mojím snom nájsť si prácu v akadémii alebo vo verejnom sektore, v ktorej sa budem môcť ďalej venovať spoločenským témam, na ktorých mi záleží, a ktorá mi dá pocit užitočnosti vo vzťahu k mojej komunite. Mojim posledným snom je mať viac času na záujmy, ktoré som počas štúdia zanedbala, napríklad šitie a čítanie beletrie.